PRODUCT INFORMATION
Each powder shot contains
80mg of caffeine

(about the same as a double espresso) and

Vitamin B12

to reduce fatigue and give you a welcome boost. Perfect for energising on the go, beating tiredness and topping your personal bests. 

Free delivery, returns and next day shipping on all orders.

Questions? Have a look at our FAQs to find out more.
Save 15% on a 20-pack bundle
(RRP £60)
Or Subscribe for a minimum of 2 months and save an extra 10%!
NUTRITIONAL INFO
Consume up to 3 sachets per day
Vitamin B12 helps your body to stimulate your metabolic rate, whilst caffeine gives you an energising boost.
Directions for Use
Simply tear, pour on the tongue and go. No need to mix with water.
BENEFITS
SUGAR FREE
0 CALORIES
VEGAN FRIENDLY
GLUTEN FREE
TEAR - POUR - GO
PORTABLE POCKET PACK
INGREDIENTS
sweetener (sorbitol), caffeine (with emulsifier; glyceryl monostearate), acid (citric acid), flavourings,thickener (sodium carboxymethyl cellulose), anti-caking agent (magnesium salts of fatty acids), sweetener (steviol glycosides), vitamin B12.
Reon Energise Powder Shots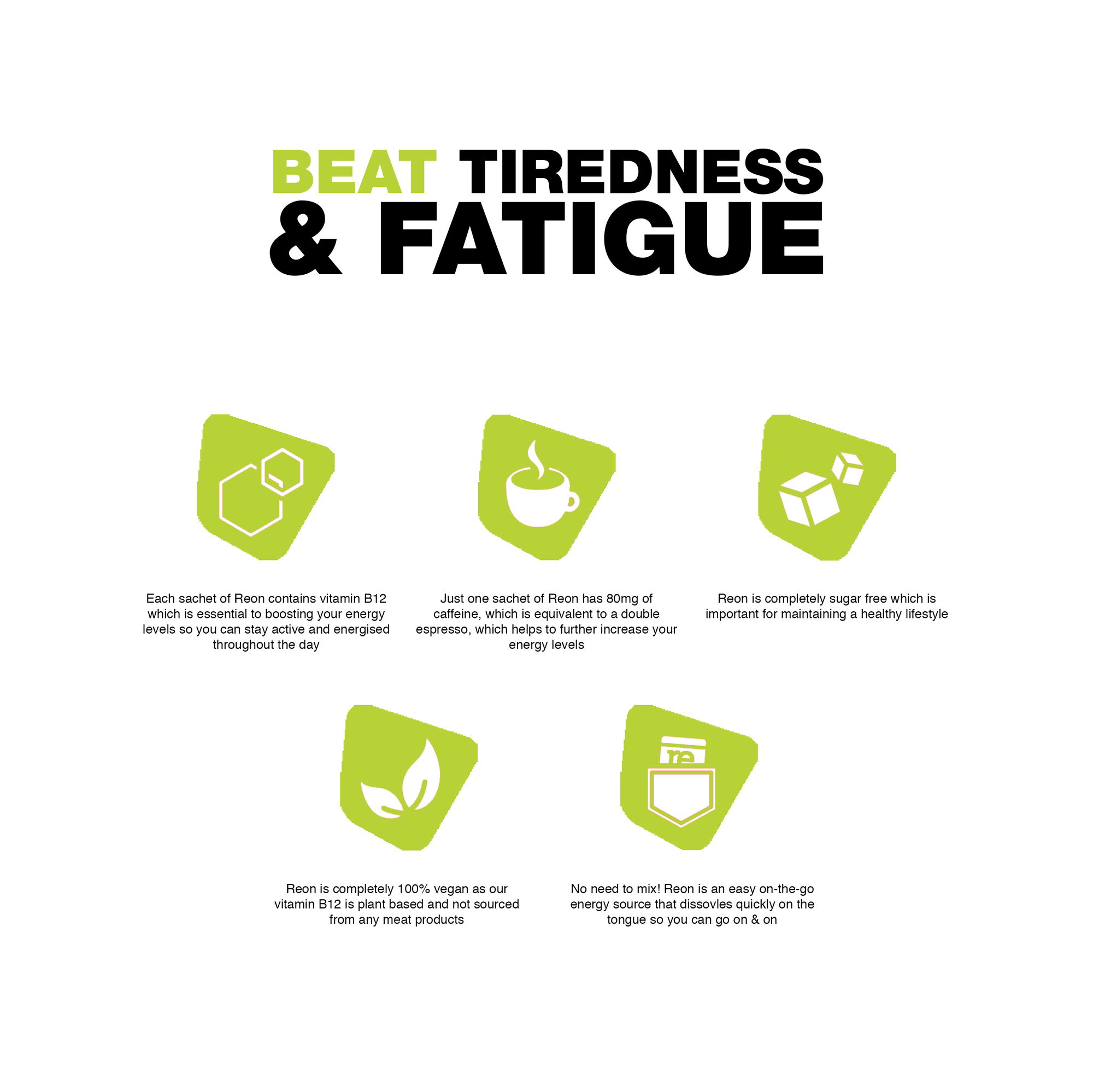 Have you tried these?
Performance Enhancing
I'm an elite sprinter and reon has probably the best thing that has ever happened to me. Being able to get another set done in every session has meant massive increases in strength, power and most important of all performance. I'm a much stronger position going into the events than I had ever before. I'm now the national champion and reon plays a massive part in the journey to the top.
Reon
I take reon for all my gym sessions and it keeps me really focused . And it always makes a gym session a good one 😀
Favourite Energy Boost
Sour apple tastes amazing.... and everyone loves how they boost your energy but you dont get the crash you do with some energy products